It was the dinner engaged half month before when we was still in Gansu province. I promised Geneva, Robin and his wife that I will cook a western Chinese dinner fro them. I found a Muslim food court at the food market which only sells beef and goat. The pitchman gave me his home phone and cell phone number; let me inform him in advance for special order – like lamb. In Shanghai, people only eat goat instead of lamb in western China.
I called the pitchman at Feb. 13, Friday and asked him to prepare 3 kg beef, 2.5 kg lamb and one set of lamb tripe. Saturday morning at 10:30, Lara and I went to the food market and got the meat by 103 RMB ($12.5).
Later on, our maid clean the meat and we went out. Lara followed Xiao Xiao back so we got the chance to buy two big boilers at IKEA by 300 RMB ($37.5). We went home around 6:00 pm and started cooking quickly. I boiled both beef and lamb for five hours until 11:30 pm.
Saturday, I got up around 9:00 am and cut four small pieces of lamb stripe for testing cook. I found the stripe was too hard to be cooked well, so I also boiled it more almost three hours.
Geneva, Robin and his wife came to my home around 11:00 am. I let the maid go out to buy some pre-maid Lan Zhou elongated noodle (Lan Zhou La Mian) from a restaurant crosses the road. The restaurant asked for 25 RMB ($3) which is pretty expensive price, so Robin decided to make the noodle from flour at home. He did the job really good.
Zhu Qi came around 12:30 pm with Xiao Xiao and Lara, the dinner started. We had lamb, beef soup noodles, lamb soup, sour-and-spicy lamb stripe and sweet-and-sour cucumber. Of course, Chinese alcohol (Bai Jiu) was the must-have.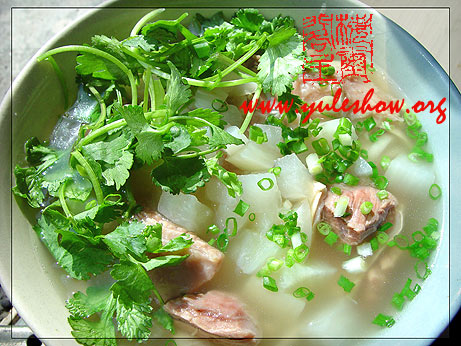 牛肉拉條子
Beef soup noodles, the noodles made by Robin.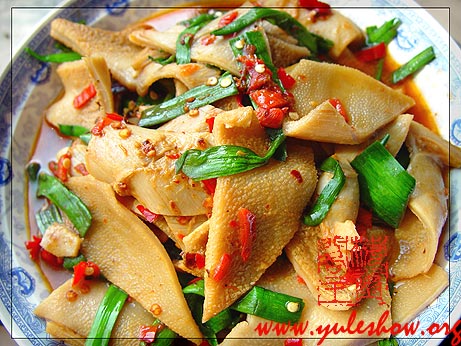 酸辣羊肚
Sour-and-spicy lamb stripe.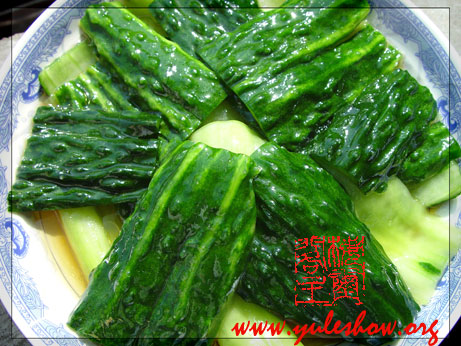 酸甜黃瓜
Sweet-and-sour cucumber.