Cambodia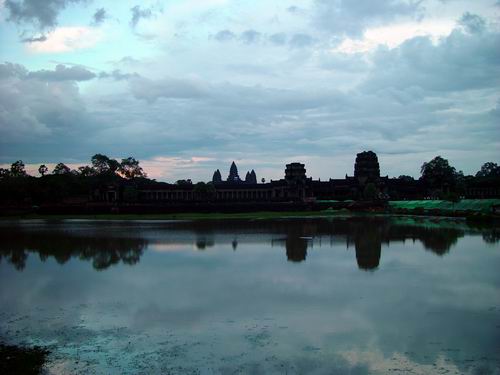 I saw the word Cambodia first time in April, 2003. I even can't match the English word Cambodia with the Chinese character Jian Pu Zhai. I had no idea of either English or Chinese word that time. I saw a picture of a big ruin at Khao San Road , Bangkok , Thailand . That picture said the ruin is Angkor Wat, the picture changed me.
I heard Jian Pu Zhai when I was very young before 10 years old. The character Zhai in Chinese means stockade village, I never thought it is a country before I was 20. My all knowledge of Cambodia is that I know their king's name is Sihanouk and he was exiled to Beijing , China . That's all. I know Angkor Wat, but I never related Angkor Wat with Jian Pu Zhai.
When I returned Shanghai at May, 2003, I did some reading on Internet. I know that ruin is one of the worthiest places to go in the world. I also read the story of Pol Pot, the story of a communist despot.
I decided to go there but I didn't get chance to route through Bangkok when I went to Manila , Philippines . Fortunately, I got chance to change my flight when I came back from Jakarta , Indonesia .
I did more research about Cambodia and Angkor Wat before I left Shanghai . I booked hotel in Bangkok and shifted several days for the Cambodia trip. When I was doing research on Internet, I found a very useful and informational website, called Tales of Asia. It is personal website owned by an American freelance, Gordon Sharpless. He traveled Thailand , Cambodia , China , Vietnam , Malaysia , Singapore , Afghanistan , Pakistan and Myanmar . He is residents in Cambodia and Bangkok , Thailand . He put a guide on his website to give out his experiences by twenty some trips from Bangkok to Siem Reap, the closest city to Angkor Wat.
I won't cost $700 for two tickets from Bangkok to Siem Reap and Siem Reap to Phnom Penh . Gordon showed in his guide that it is only cost as much as $35 or even as low as $4 by sharing the transportation with others. I printed his guide and read more than 10 times when I was in Jakarta , Indonesia . Especially, I was arrived Jakarta one day earlier than the terrorist JW Marriott Hotel explosion. I dared not to go out for site seeing and just stayed at hotel and read Gordon's guide. I also bought a LonelyPlanet Cambodia guide book at Bangkok by $20, it is a thin book.
It was August 11, 2003. I followed the guide and successfully reached Siem Reap from Bangkok by public bus and rental cab. I don't want write the details of the entire trip here, because Gordon's guide is more than enough. If you are going to have a same trip, I think he is more than welcome to give the guide. His guide include every detail you need to make such a trip from Bangkok to Siem Reap.
I was arrived the Bangkok bus terminal around 8:00. I ran out of the Thai Baht after purchased the bus ticket to border Aranyaprathet. I asked several white people to change money, but most of them refused. I decreased the desired change rate again and again; eventually I changed twenty dollars. With money, I could buy a bottle of water. I was really thirsty after almost half hour's begging.
I met a Dutchman at the bus terminal. I also asked to change money with him and he refused. Later on, I knew he did have no cash that time. He came from Chiang Mai and was arrived this morning to the bus terminal. He was wondering is that worth to go Cambodia . I recommended him to make that trip. We sat together on the bus and changed information in the trip.
There was a couple sat behind us, they are German and look like more than fifty years old.
We sat together and did some chat on they way, the Dutchman told me that he is a student with the major of geologic. We also discussed the way to Siem Reap in Cambodia part, we decided share a cab to go to Siem Reap.
At the border, we just the followed Gordon's guide. Everything was as same as his writing. The only exception was for me, not for the westerners. I had some visa problem. It looks Thai immigration department never issue multi-entry tourist visa to a China residents. I have to pay $20 (?) for a return visa first. Thing was not that difficult, I went cross the street at the Thai part arrival point and got the return visa.
Everything was much easier for that three persons but difficult for me. At the departing point of Thai part, the officer checked my passport for a longtime. Other westerners at the next queue were easily get through as well as I still got stuck there.
Later, we applied the Cambodia visa. The officer behind the window wouldn't accept the application form. We had to give our passport and application form to the travel mafia who just stand beside the window. They would handle your document to the officer. They only accepted Thai Baht for the application fee. I didn't have enough Baht, so I went to a convenient shop and changed 1,000 Baht by $25. Just ten minutes, we got the visa. The application fee showed on the visa is $20 instead of 1,000 Baht that we paid. What a corrupt game it is.
We went to the arrival point of the Cambodia part. The German and Dutchman easily got pass again and I was stuck again. The officer check again and again by watching, touching and using UV light, he even called another officer to check my passport together. I found they checked my two United States visa again and again, eventually they want me show some other ID. I showed them my United States Federal badge, they let me go.
The town at the Cambodia part called Poi Pet. It was suddenly much dirtier than the Thai part. The feeling was that fallen down to the hell from heaven. There were a lot of beggars, garbage, jinrickshas and all other messes. The only good and clean things were the gambling hotel, every such casino had a Chinese name.
Hundreds of travel mafia walked forward to us and want to force us to take their cab. The first person said the price is 2,000 Baht; we didn't even say anything to him just turn back and kept walking. After enough boring bargain, eventually we found a cab for 1,000 Baht to Siem Reap.
The road from Poi Pet to Siem Reap called National Highway 6. What a horrible road. It was just a two lines earth road, there was only one way in some part. Pits were everywhere, and the dust was horribly flying.
Three hours later, we were arrived at the Siem Reap. The driver dropped us at the town corner. Some Tut-tut came and brought us to look for the guest house.
I already had reservation through Internet; I reserved the Angkor Hotel by $40 per night. It was the cheapest price I can find online. They said they want some guest house around $5 to $10. I just followed them.
We found a Chinese ran home guest house, they went inside and had a look. They refused to stay there and found another guest house for just $5. I also checked the room; it was clean but without air conditioner.
I said goodbye to those three person and let the Tut-tut bring me to the Angkor Hotel. The person suggested me have a look of the guest house next to. The next guesthouse was great; it may be the cleanest guest house I ever see. All the guests took off their shoes at the gate, the landlady clean the floor all the time when she was free. A room had air conditioner and hot water even with a mini bar was only cost $12, I took it. I put my luggage in the room and went to the next guest house to look for the Dutchman. We decided to hire the Tut-tut sent us here for several days. The Tut-tut driver was kind and can speak a little English; he asked us $7 per day for bring us to the Angkor Wat. Angkor Wat is 6 km away from Siem Reap.
(To be continued)
Click here for the detail of Cambodia board.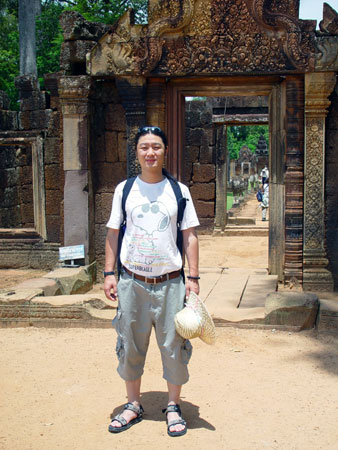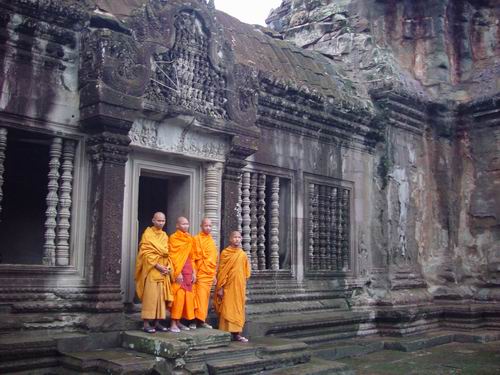 Related links:
Tales of Asia – Cambodia