Malaysia
Passport and visa story
Malaysia, so called true Asia, is the first country I went abroad
in my life. It was a winter in 1999, Shanghai was already
very cold and I was informed to go Kula Lumpur for CMS/Lotus Notes
training.
There was no more than ten days left, I even didn't have passport
yet. No one can easily get a passport that time. Even
for the application form, you have to have a invitation letter from
foreign company, a introduction letter from the archive holder,
which normally was a state owned company. After that, you
need fill the application form, get the archive holder chopped that
application form means that the company let you go. It looked
like the company has the ownership of the employees, a very bad
feeling.
Shanghai Foreign Service Company, which is my archive holder, had
a related company, which did service for getting passport and visa.
The official period will be two to three work week to get the passport,
and the company can get the passport in one week. It
was said that the son in law of the director of Shanghai Foreign
Affair owned the service company, which was why they can do the
job so quickly. All the employees for Shanghai Foreign Service
Company have to go through that related company to get the passport.
The price was 200 RMB, several times higher than the normal price.
Even though, I need faster service. There was only less than
ten days left, and I need get Malaysia Visa also. Even worse,
Malaysia only had consulates in Beijing and Guangzhou can issue
business visa that means I had to fly
Beijing or Guangzhou after I got my passport.
Eventually, I got the passport in three days through my "powerful"
friends after paid 2oo RMB to that service company.
I mailed my passport to FCS Guangzhou through EMS. Ned Quistorff,
the PCO of FCS Guangzhou, sent the passport to Malaysia Consulate
in Guangzhou by himself and got the visa. I flew to Guangzhou
that morning, got my passport and visa back and flew to Kuala Lumpur
that afternoon.
I went there with the same flight of two Guangzhou colleagues.
We took cab to the Mandarin Oriental hotel. I had no any idea
of Kuala Lumpur, which I knew before I went there is the famous
Twin Tower and hot weather.
I didn't see the twin tower that night. I decided the first
thing I will do at the next day was to look for the Twin Tower.
Next morning, I woke up and open the window frame. I found
that the Twin Tower is just there about 200 meters away. The
Twin Tower was really high; Shanghai didn't have Jin Mao Tower that
time.
We had training in the hotel for three days. I didn't go
anywhere at daytime. Bill Lawton, Huang Zhiqiang and I went
to Chinatown free market after supper. I bought a Seven
Years in Tibet video CD, which Sam and I wanted to watch it
for a longtime.
The only thing I still remember is that the weather was really
hot. I even cancelled my following trip and escaped to Hong
Kong.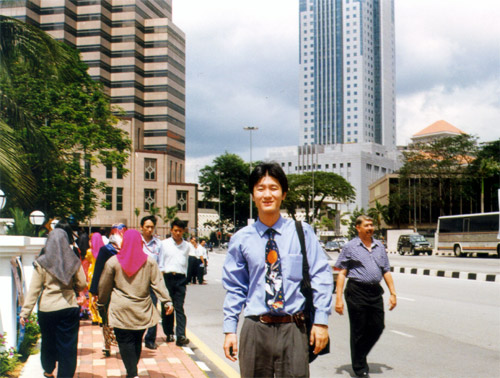 First time visit Kuala Lumpur, Malaysia in 1999.
Second time visit Malaysia
March 31 to April 4, 2003
This is my second time to Kuala Lumpur, Malaysia. It is
also the first time I did OCIO (Office of Chief Information Officer)
Windows 2000 network upgrading by myself only.
Malaysia isn't the place I like, so I set the itinerary end at
Friday. It was not only I can avoid weekend in Malaysia, but
also I can get more per diem.
I felt Kuala Lumpur didn't change anything in the past three years.
I could still recognize the street and shops there. Bill Zarit
arranged me stay at Regent Hotel. It was a very good hotel
at the best location, but it was also the only five stars hotel
without broadband connection in Kula Lumpur. I had to buy
the Internet dial-up card to access Internet.
There are three racers in Malaysia. Indian, they are very
smart, lazy and dirty. I even met a cab driver can talk
about the mathematic with me. Indian are famous of their bad
smell. And I did feel they are very lazy. I remembered
that I asked an Indian to move something for me, once the first
item moved; the person will just stay there. He won't move
if you didn't tell him to move the next item. Malay, they are very
clean, honest and slow. I don't want to say they are stupid,
but slow is a word to kind for them. Chinese, they are very
hardworking, smart and bad. I still remember my experiences
for taking cab. If the driver is a Chinese; he normally will
ask more than the meter.
Batu Cave
Click here
to read the details of Batu Cave.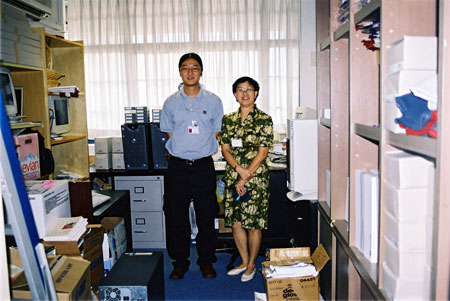 I and CS Kuala Lumpur SA, in the server room. U.S. Embassy in Malaysia.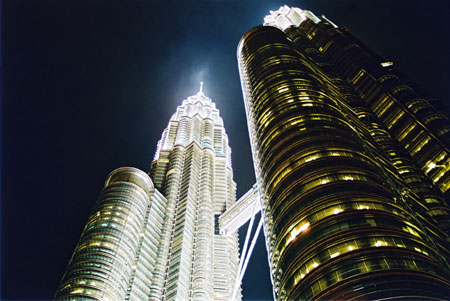 Twin Tower.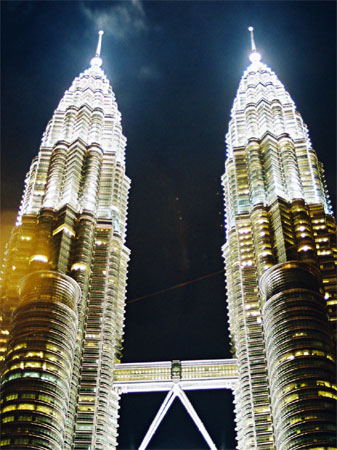 Twin Tower.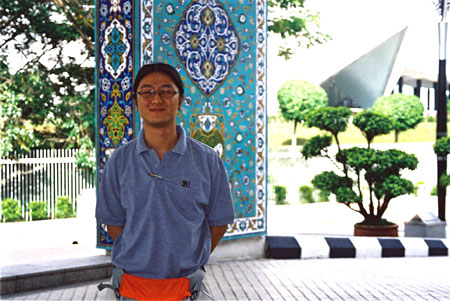 At National Islamic Museum.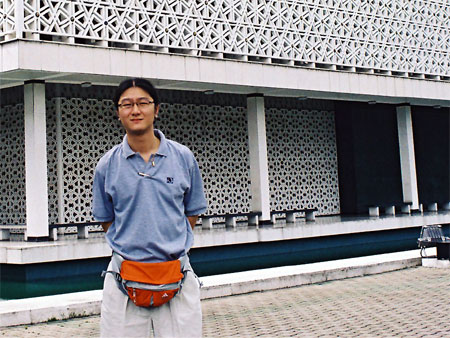 At National Mosque.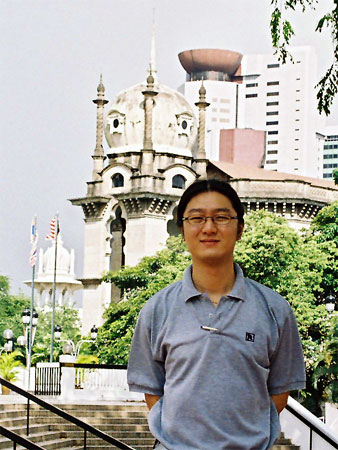 At Kuala Lumpur railway station (old).