June 11, 2003 in Washington D.C.

Wednesday
I got up around 7:00 am as well as woke up around 6:00 am. I
got email from Fang Shi Ming who is well known as Fang Zou Zi
(ark), he said he was in Beijing and would be back to San Diego
on June 20. I replied to him, and told him I am going to San
Diego to meet him.
I went to HCHB at 8:30 but the
guard refused me go through the entrance at Constitution and
15th street. I had to walked walk
to 14th street, took elevator to 3rd floor and back to 1st floor,
then can reach Ann's office (room 1223).
I had a real good chatting with Ann. She said she will select
me as the EBDU (E-Business Develop Unit) EAP Leader and want
to me to do as the trainer of the region. She also mentioned
that about sending me to Vietnam get a training.
I had lunch with Blair together, at the food bar under the
Ronald Reagan building. I got Sushi Deluxe since there was
one Ikura (salmon roe), which is my favorite,
included.
After lunch, I said goodbye to
Blair. He was going to Vladivostok tomorrow, to do the work I
should do. I went hotel directly by metro. I reached my room
at 1:00 pm, there was a envelop on the ground, International
Automobile Association mailed International Driver's License
to me. It made me so happy. But eventually I found they printed
wrong information on my card, it wasn't my name and address.
I had to contact with IAA again and asked them to print a new
one
to
mail
to me.
The
bad
IAA
let me pay the express mail fee, which is $14, kind of robbing
me.
I decided finish my MBA thesis paper that afternoon. I owed
my professor Dr. McMillan for a long time, the due date was
May 1st. I spent the whole afternoon
and eventually I finished the document.
I went out around 8:00, it was going to rain. I walked to the
famous George Town, and walked into an art shop. I bought
some color sticks and another bead chain
toy for Lara.
It was start raining when I was looking for mussel as supper.
I can't find
it but I found Barnes & Nobel, which is a bookstore I bought some books 3
years before. This time I bought a recipe book called Better Homes and Gardens
New Cook Book, the cover said it is the America's number one cookbook since
1930. Also, I bought a Kama Sutra for Sam.
It was already 10:00 pm when I walked out of the book store,
the CVS was closed. I had to walk back to 22nd street and
went to Meiwah again. This time, I ordered
Pan-Fried Noodles with Seafood and Vegetables. The assistant saw me always
take away instead of eat in the restaurant; I guess she was
thinking that I will share
with some person. She gave me two pairs of chopsticks.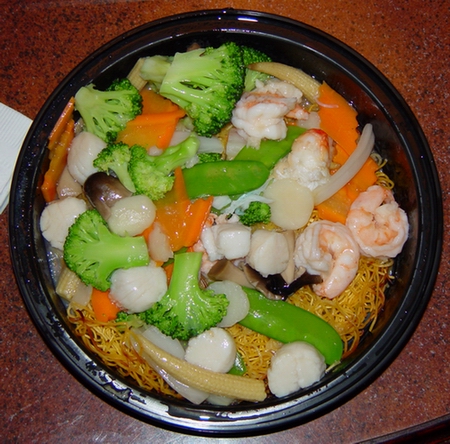 Pan-fried noodle, $11.95 from Meiwah Restaurant, 1200 New hamshire
Ave NW.