这张纸是我的好友Catherine Houghton手写给我的,是尼泊尔茶的方子,现在故人仙去,特地找了出来,扫描录入,以兹纪念。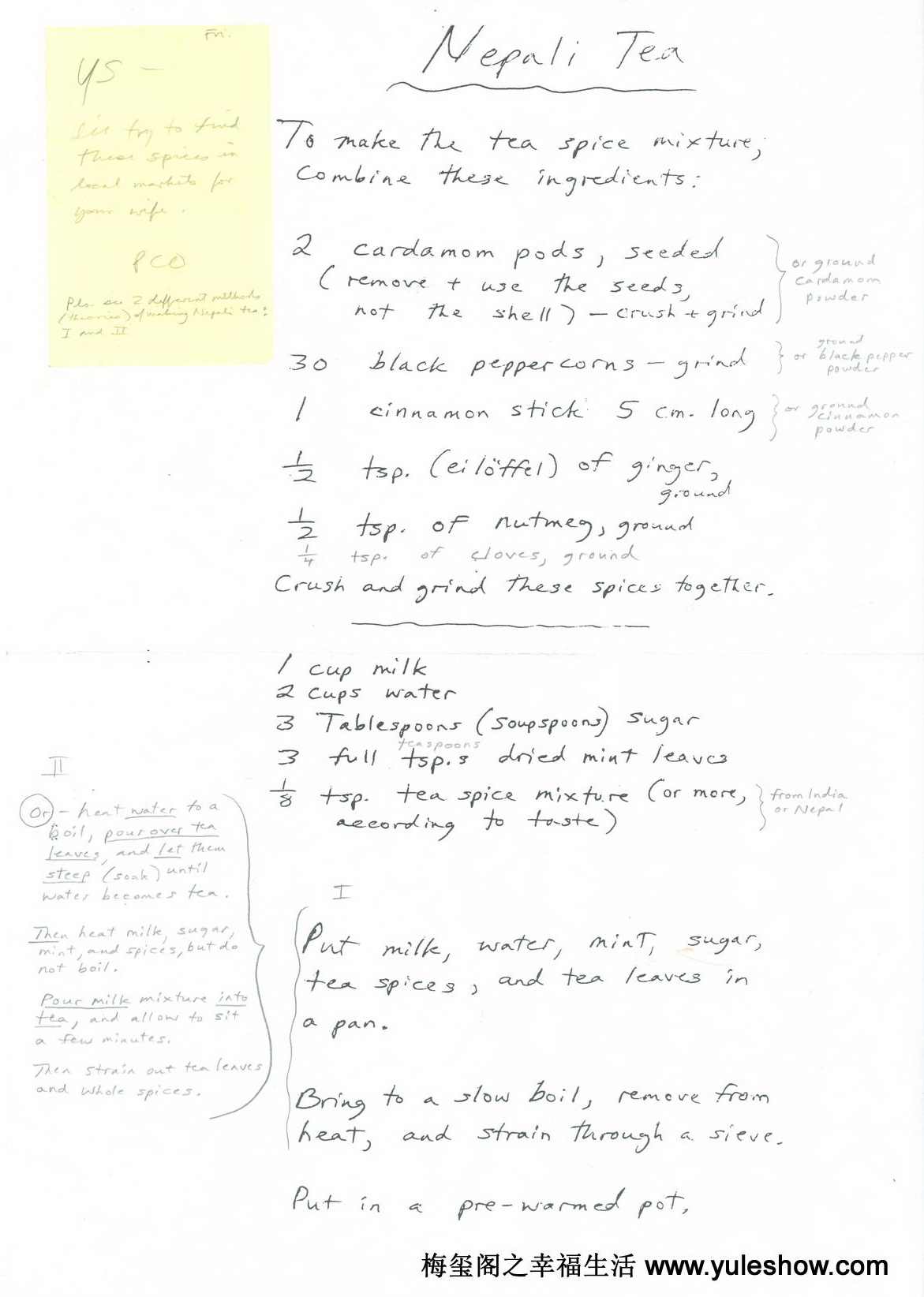 To make the tea spice mixture, combine these ingredients:
2 cardamom pod, seeded (remove + use the seeds, not the shell) – crush + grind
or ground cardamom powder
30 black pepper corns – grind
or ground black pepper powder
1 cinnamon stick 5 cm long
Or ground cinnamon powder
½ tsp. (el löffel) of ginger, ground
½ tsp. of nutmeg, ground
¼ tsp. of cloves, ground
Crush and grind these spices together.
——————————————————————————————————————-
1 cup milk
2 cups water
3 tablespoons (soupspoons) sugar
3 full tsps. dried mint leaves
1/8 tsp. tea spice mixture (or more, according to taste), from India or Nepal
——————————————————————————————————————-
I
Put milk, water, mint, sugar, tea spices, and tea leaves in a pan.
Bring to a slow boil, remove from heat, and strain through a sieve.
Put in a pre-wormed pot.
II
(or) – heat water to a boil, pour over tea leaves, and let them steep (soak) until water becomes tea.
Then heat milk, sugar, mint, and spices, but to not boil.
Pour milk mixture into tea, and allow to sit a few minutes.
Then strain out tea leaves and whole spices.